Our new

monthly membership

aims to empower your online success AND take the load off your shoulders in three big ways:
1. Powerful marketing tools and analytics to drive your marketing success.
Data that's easy to understand. Data that leads to learning, action, and sales. Tools to engage your users for more data. All in one location for your to check. No logging into 10 different accounts to see how you're doing.
2. Lead and sales-saving maintenance checks for your online presence.
Perform routine checks on the functionality on your website, and vital lead generating links on your social media profiles and email auto responders. Broken links and websites cost you users and money.
3. Members-only discounts on our services and offerings to help your business grow.
Book us up to 5 hours each month at our discounted hourly rate to leverage your marketing insights further, 10% off of our 1-Day Sites, and get 3 hours of free copywriting with a new custom website design.
What Your Membership Includes
Powerful Marketing Tools and Analytics
The only way to create an effective marketing strategy and to drive sales is through marketing data. Also, it's the EASIEST way. Your audience will tell you exactly what you need to do to serve them and to convert them to an engaged, paying customer!
Master Analytics Sheet Updated Monthly

Rather than checking multiple dashboards for how you're doing, we'll corral key metrics from your primary data sources into a single spreadsheet, and even toss a few metrics in ourselves.

What we track for you: Google Analytics, Email List/Newsletter Service, Facebook, Youtube, Instagram, Twitter

Visual Analysis of Primary Pages of Your Website

The only way to know about your copy (text) is performing is to have a visual analysis showing you what people are reading and what they're not.

We'll track 2 key pages on your website through our CrazyEgg account and include the easy-to-read visual analysis every month.

Typeform for Powerful Surveys to Fuel Your Marketing

One of the most powerful ways to gather marketing and product data is to send super short surveys to your audience. People on your email list and paying customers are very willing to let you know how you can help them, especially when it's only a few questions.

Each month you can send out a new or ongoing survey with 1-3 questions.

We'll include your survey stats and responses in your monthly report, AND you have the option to receive responses automatically as they're submitted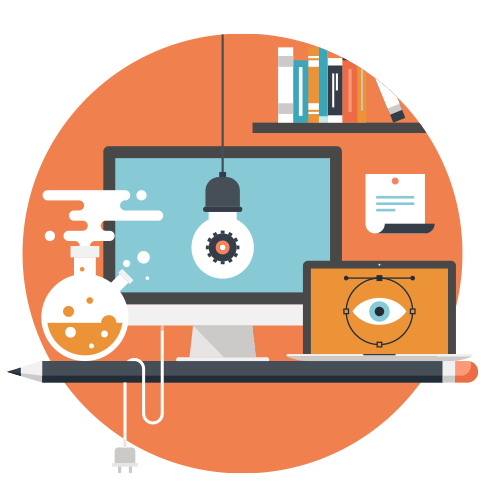 Lead and sales-saving maintenance checks for your online presence
Maintenance checks and updates: All the stuff you know you should do, but don't. I get it – it's a pain in the ass!
The biggest problem is that while your website and social media profiles are gathering cobwebs, updates are rolling out, and you've likely made some changes that result in a broken link that your new users click on…lost leads!
We're here to take the load off. If any of our alerts indicate you need more serious work done or you simply would like to hire us to handle the job for you – you're in luck! You can book us for up to 5 hours each month at our discounted rate! All you have to do is reply to your monthly report email and book session with us.
Website Link Maintenance

We'll generate a report of any dead links on your website. A dead link means you used to have a page that you deleted and it's possible users might still be trying to access this page.

Website Maintenance Alert

We'll inform you each month if your website is in need of routine updates: plugins, theme, and WordPress.

Contact Form Check

We'll test your contact form once each month to make sure you're getting the messages – no more missed opportunities!

Social Media Profile Links Check

We'll check your top 3 social media profiles each month to make sure your bio links are working.

Email Autoresponder Link Check

Your autoresponder is one place you can easily forget to check regularly. We'll make sure links in your autoresponders are working and accurate.

Search Engine Reports

Each month we'll perform a routine report for Google Search Console & Bing Webmaster Tools:

Review performance, index, error reports, broken links, and duplicate content
Members-only discounts on our services and offerings to help your business grow.
With powerful marketing data each month, you'll be excited and confident to move forward in growing your business and implementing marketing strategies. To help fuel your efforts, as a PowerUp Monthly Member, you'll receive the following discounted services:
Discounted hourly rate for additional work with us:

Up to 5 hours per month at our discounted rate ($120/hr vs. $150/hr)

Any service we offer hourly

10% off our 1 Day Sites
3 free copywriting/editing hours if you sign up for a custom website
Sign Up for Your Monthly Membership
Ready for us to change your world and become a PowerUp Monthly Member? Here are the details and a link to get started:
$99/month
$59 one-time setup fee
6-month commitment, billed automatically monthly
It's Worth It: $500 to infinity in value.
To do this all on your own and pay for the third-party services would cost you over $400+ month, depending on what you charge for your time. Plus there's the $150-$300+ in discounts you receive from us monthly. Plus plus plus….the invaluable and exponential return on investment to your business as it grows from all the goodness in your monthly membership!