Social Media:
That great thing that you don't have time for but we do.
Not messin' around:
what a social media strategy gives you:
1. Reach your target audience with your valuable content
Your audience is out there, but you need a way to reach them and cut through the noise. Social media is still one of the most powerful ways to connect with and cultivate a relationship with new folks who'll love your work (and those who already do). 
2. Cultivate a deeper relationship, trust, and expertise with your audience, making them more likely to take action.
You have to do more than reach your passionate audience. You need to connect with them often enough for them to trust you and see you as an expert. When they see you with this empowered appreciation, they're more likely to take action (read: sign up and pay).
3. Higher engagement with potential customers because they hear from you regularly.
In this digital age, people can too easily and quickly forget about you, even if they love what you do. Engaging your audience regularly with meaningful, valuable content will keep them engaged and keep you in their mind and hearts.
4. Give easy ways for your fans to spread the word about you.
For your biggest fans, they're ready and waiting to spread the word about you, but they need something to share. Posting content regularly on social media gives your fans what they want – a way to share what lights them up to others: you and your work.
5. Gain more followers on your accounts which will allow you to do powerful and easy advertising.
With regular posting on social media, more and more people will be exposed to what you offer and will be much more likely to follow your profile and account. The more followers you have on your account, the easier it becomes to do something like advertising – you have a target audience, ready and waiting at your finger tips.
Take a
What we'll do for you

!
Craft a social media and content strategy customized for your business and audience
Set up your social media accounts
Create catchy posts and sharing them for you (on a schedule even!)
Write blog posts for you
Provide you with high quality images for sharing (which we'll be doing for you)
Write newsletters for your email list
What You Get and Our Rate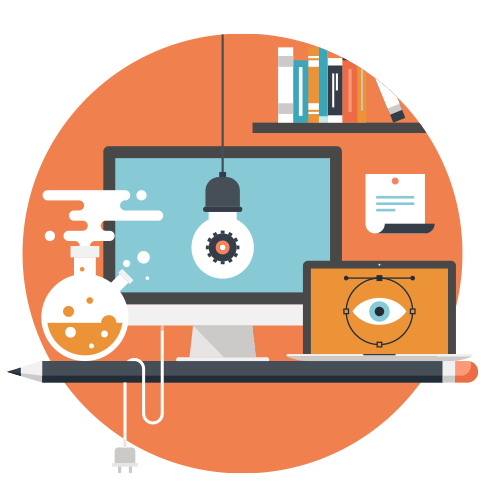 Our Lowest Rate = You can do this. 
To make this as accessible as possible we're offering our lowest rate, way lower than our normal rate. We want to make this more accessible for you to do monthly, which is how you'll get the best results in social media.
We're offering our social media services for $50/month (compared to our normal rate of $150/hr).
We'll be giving you up to 5 images from our Getty Images subscription, included in a $25/month fee. We have a minimum of 1 hour/month to rock out your social media each month.
In your initial consultation, we'll help you determine how many hours/month you need based on your goals, strategy, and budget.
Schedule a social media consult
Your Social Media Strategist – Caitlin Van Hecke
Caitlin is here to help you with all the what, when, and hows of going about creating the website of your dreams and then sharing it with the world. She's a big believer in questions– there are none that are too big or too small, so feel free to ask away. She prides herself in her ability to communicate effectively and efficiently and feels like connection is at the heart of everything we do in life. She's ready to connect with you!