"40 Years of Excellence by Design"
The Challenge
Despite being extremely successful and having their products featured in some of the most high tech projects in the industry over its 40 year history, their brand and website remained virtually unchanged for decades. Their current web presence did not showcase the quality of their products and did not reflect the excellent customer service they prided themselves in offering offline.
Additionally, one of their main selling points—the customizability of their products and education resources offered to designers and prospective customers—was not available in a user friendly manner on their legacy website.
Services Provided
Branding
Marketing strategy
Web Design
Web Development
Graphic Design
Branding Refresh
Refresh the Spira brand and create a more current and timeless corporate image that more accurately reflects Spira's quality and excellence as a company.
Website Redesign & Development
Create a new and updated web presence for Spira that promoted user friendliness and showcased new functionality to help their clients find the information they need to order products.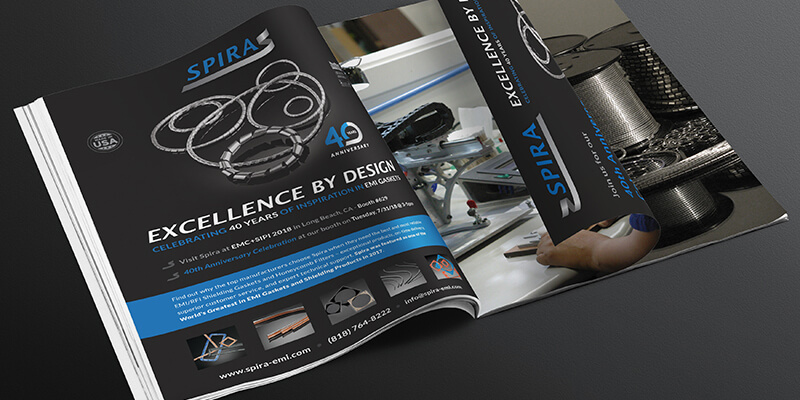 Graphic Design
Celebrate and showcase the 40th anniversary of the company with ads and graphic collateral.
Our team carefully assessed Spira's existing branding, web presence, and marketing materials for how well they met their marketing and business goals.
We then worked closely with Spira to map out a thoughtful and effective web architecture and user experience that included the new functionality not existent in the current website.
In Our Client's Own Words
"It was a delight working with the entire PowerUp team on our custom website. We ended up with a website that was MUCH nicer than we dreamed of! They had lots of creative ideas, and were very respectful of our budget, helping us to get the most "bang for our buck." They operate with integrity and are great people to work with! I highly recommend them."
We helped Spira to land on a new and modern approach to their branding that will remain as fresh as their products as they embark on their 40th decade in business.
Their new website was built on a flexible and modern platform which will allow both their team and customers to use with ease.
The new functionality includes a custom designed product selector tool, an information library for their documents and videos, and customized ecommerce features to showcase their products.
Our time tested, strategic, and co-creative process helped us find the best solutions to achieve the goals we set out to meet when we started the project. We are excited to see where this new chapter takes Spira!